My initial plan for today's post was to show the rest of the items I got at the TriStar show this past weekend. But, a recent post on Wax Heaven showcasing the
Top 5 Oddballs of All-Time
has caused me to change course. Since I knew that Rickey was represented in a majority of these sets, I figured it was a perfect time to feature these cards.
5. Drake's Big Hitters
Rickey was in the 1986, 1987, and 1988 versions of the Drake's Big Hitters set. The first scan below includes the 1986 version of the card, which is number 5 of 37 in the set. Rickey is included on the uncut panel along with Pedro Guerrero of the Dodgers.


The next picture includes both the 1987 (#12 of 33) and 1988 cards (#7 of 33)




Along with the cut-out version of the 1988 card, I also have a complete box of Yankee Doodles (I wonder if all the Yankees were featured on Yankee Doodles, and if they did it on purpose?), with the Rickey and Guerrero cards on the back. The Big Hitters set was spread across the different brands of Drake's snack cakes, all with rather interesting names. For example, the Chocolate Donut Delites featured Cal Ripken and Will Clark cards, while the Sunny Doodles contained cards of Kirby Puckett and Eddie Murray.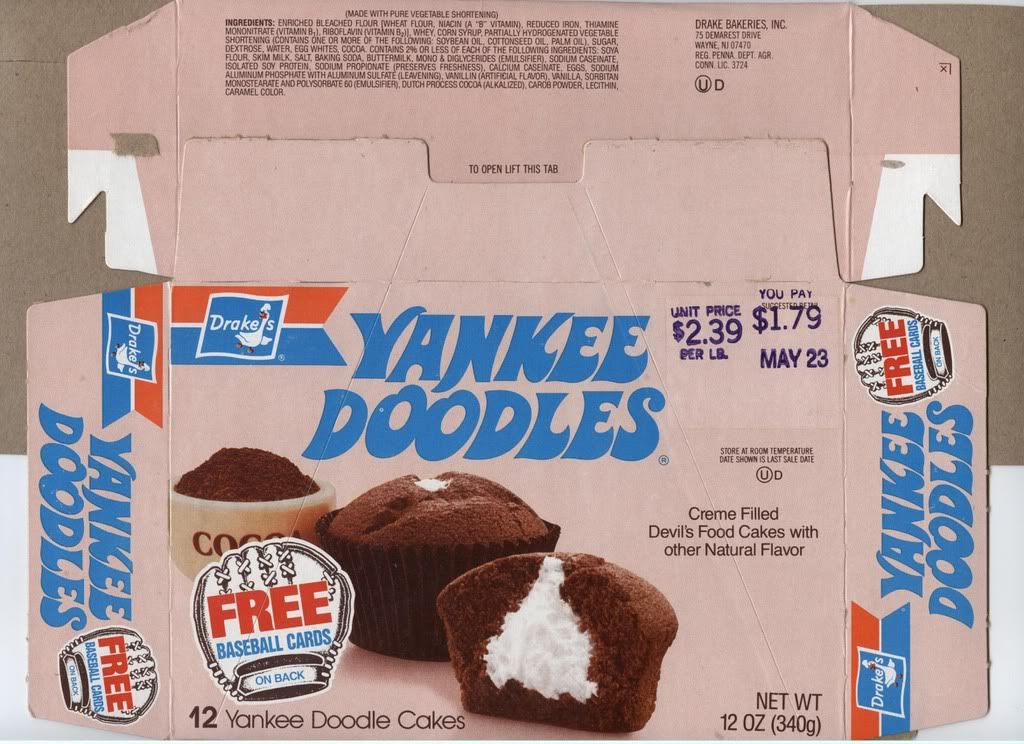 4. 1982 Kmart Box Set

Because this was released rather early in his career, Rickey was not included in this 20th Anniversary Kmart set. But, he was included in the 25th Anniversary set (card #27) in 1987, which had a design that resembled the 1982 set, so I've used my artistic license, and included that instead.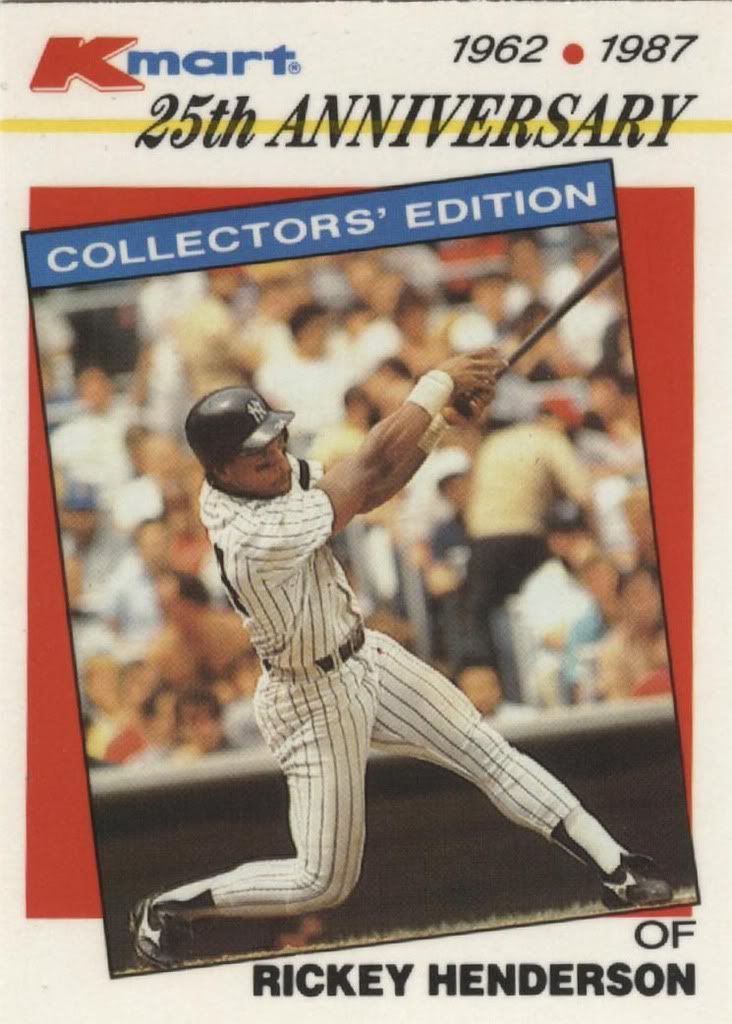 3. 1988 Panini Stickers

Rickey makes up for his lack of inclusion in the #4 Kmart set, with 3 different stickers in the 1988 Panini set. The picture on the left is his "base" sticker (#158), followed by an action shot in the middle (#434) and finally a dual star sticker on the right (#231) which he shares with fellow Yankee Dave Winfield.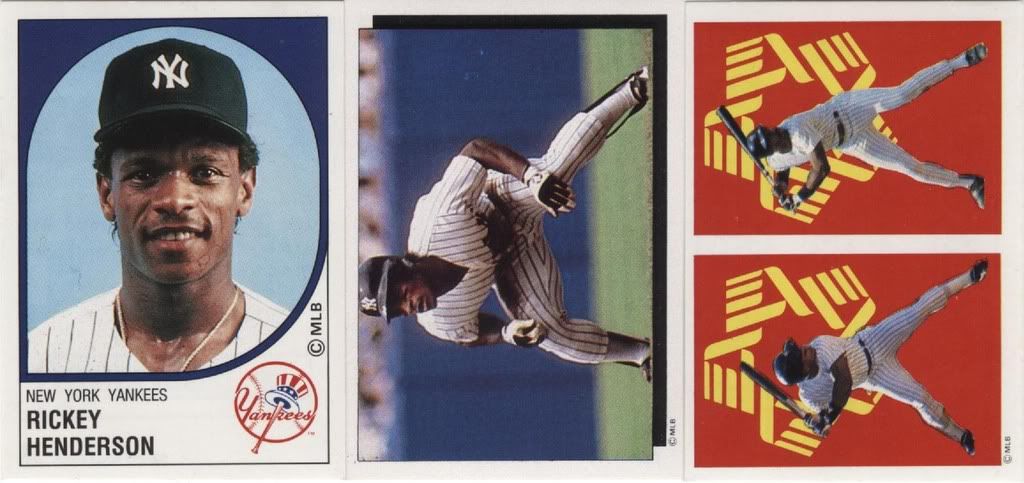 #1 1983 Donruss Action All-Stars

As you probably noticed, I skipped the #2 set (1988 Pacific Legends), since it featured "legends" of the game, of which Rickey was still making his mark at the time. I have to agree that Rickey's card in the All-Star set (#22) really is one of his best. Featuring two full color shots, one being an action shot in the A's classic early 80's jersey, you really can't complain.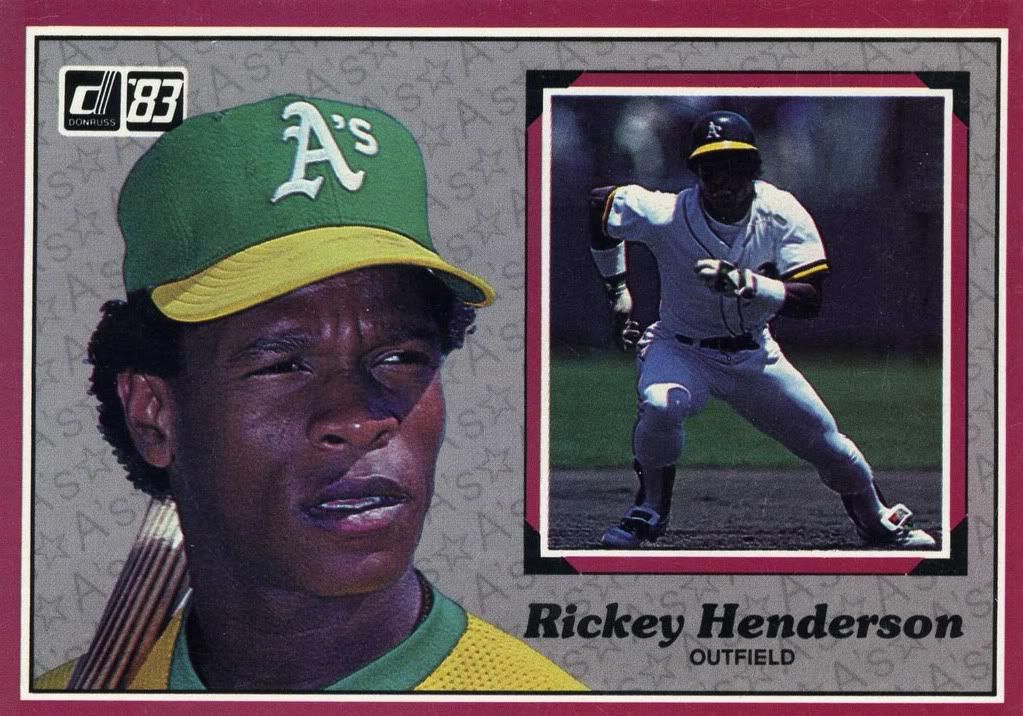 Finally, I've included an unopened pack of 1983 Donruss All-Stars, with the Rickey card prominently featured on the back (Carlton Fisk is on the front). The unopened pack at the bottom of the scan shows you what the front of the packs looked like, with this one featuring White Sox DH Greg Luzinski in a classic Sox jersey (and a Nolan Ryan card on the back).