Following up on what I
started
a few weeks ago, here's a continuation of Rickey's Topps cards, this time from 1985-1993. We begin with his 1985 Topps Traded, his first card as a Yankee. We also get to the cards that began my collection, and
my first ever Rickey card
! The two cards in the bottom left and right corners of this picture are box bottom cards, carefully cut from the bottoms of wax boxes.
The second scan starts with a 1988 Topps Record Breaker, which although is technically a Don Mattingly card, prominently features Rickey. We then get to 1989 Topps Traded, where he has once again become a member of the Oakland A's. The 1989 and 1990 Topps card on the left side of the middle and bottom rows have once again been cut out from wax boxes.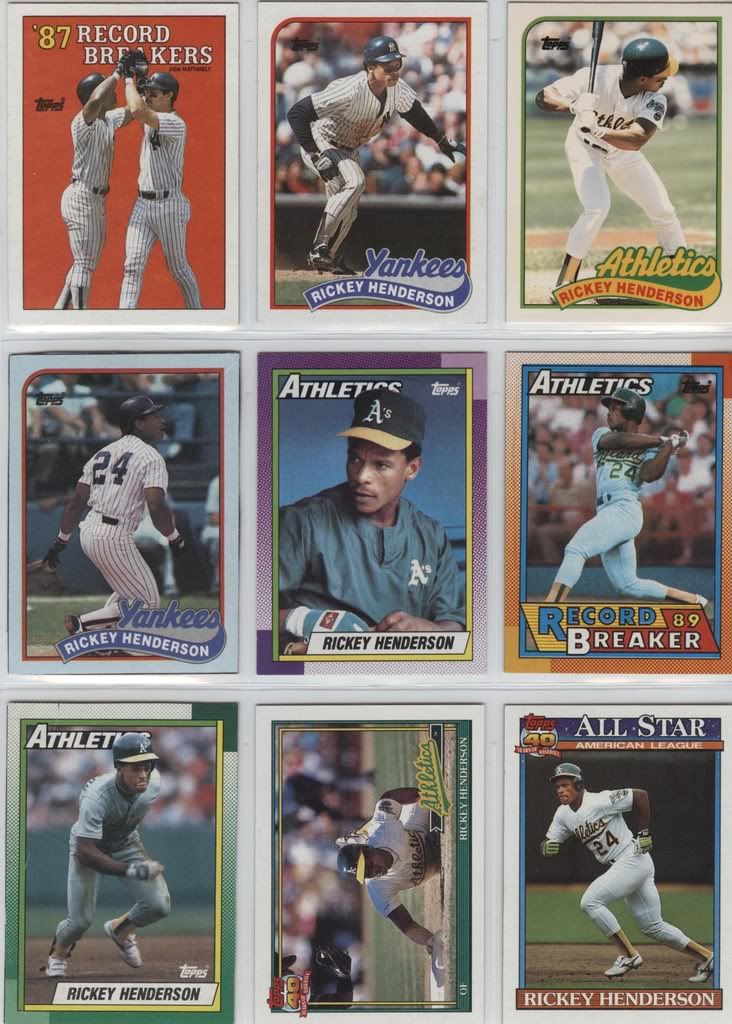 The final photo begins with another box bottom card (from 1991 Topps), and ends with his base and gold cards from 1993 Topps, with more from this set to come later. In between, you can see three different versions of his 1992 Topps base and record breakers cards. First there's the base cards, followed by his gold cards, and finally the gold "winners" cards.
With this post I've come to the first Rickey cards that I'm actually missing from my collection, some common, and some not so common. I don't actually have a wanted list put together, but I plan on starting one at some point in time, and getting it put up on the blog somewhere.
To get things started, I'm missing Rickey's 1991 Topps Desert Shield #391 and #370. I'm also missing 1991 Topps Gallery of Champions #7, but to be honest, I'm not exactly sure what this card is. Finally, there's an error card (1992 Topps Record Breakers #2) that says 1.991 on the front, instead of 1991. It's sort of a silly error, but I know it's out there, so of course I have to get a hold of one. If anyone has any of these lying around, let me know, and I'm sure we can work something out.