Today's post will mark the last of the items I picked up at the San Francisco Tri-Star convention a few weeks ago. I got this media guide (for Rickey's first full year with the A's) from the same dealer that sold me the
1980 Spring Training guide
.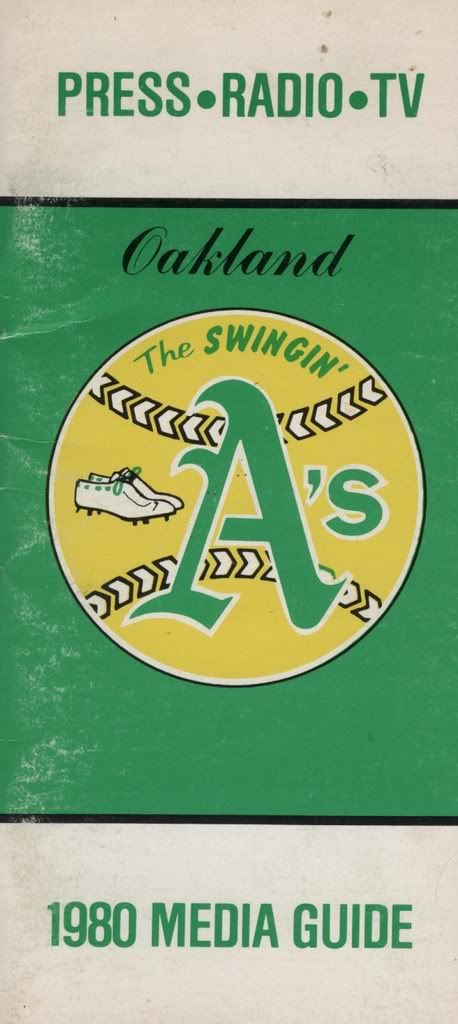 Rickey was only 21 years old in 1980, and still had quite a few games left to play in his career. According to his bio, Rickey was signed in 1976 by Jim Guinn, and I hope that guy got a bonus!
Rickey was recalled by the A's from the Ogden club on June 23, 1979, and made his major league debut the next day. According to the media guide, the A's lost both games of a doubleheader to Texas 5-1 and 7-2. A total of 4,752 fans were there for Rickey's debut, which was surprisingly good for a home game at the time. The A's played a home game on September 18, also against Texas, where only 750 fans showed up!
The A's were pretty bad in 1979 (they had a final record of 54-108), but not nearly as bad as they made themselves out to be in the media guide!
During the 1979 season Rickey played in 89 games, which I believe was every game the A's played after he was called up. Even playing only half a season, Rickey led the team in stolen bases (with 33),and was second on the team with a .274 average.