I recently received the collection of Rickey oddball cards in the mail that I had alluded to in my last post, and I couldn't be happier! While compiling my list of Rickey cards, which I posted recently, I came across an e-mail with a list of oddball cards from an eBay dealer that I used to buy cards from (which was dated June 14, 1999). I was amazingly able to track the dealer down, and found out that he was not selling cards anymore, but that he still had them all in his basement. So, after a few e-mails back and forth, I was able to purchase a binder containing his entire Rickey oddball card collection!
After what seemed like ages (it was actually only 2 days after he shipped it), I received that above binder. It contains about 80 pages and probably around 1,000 Rickey cards. But, the amazing thing, is that probably only 20 or so were actual base cards. It is almost entirely made up of the cards that I enjoy collecting the most, the odd ones that aren't seen very often. I've created a few collages of some of the cards and other items that I received, with more detailed posts to come at a later time.
This first picture includes, among other things, an April 1996 Baseball Weekly, a 1991 Starshots button, the top from a 1987 Topps Sticker box, an uncut panel of 1992 Mr. Turkey cards, and a 1990 Bandai collectors coin.
The next picture shows a 1983 Fleer Star Stickers box top, a complete box from 1989 OPC, the wrapper from the 1990 Topps coins set, a 1987 General Mills booklet and a 1984 Topps 10 sticker test strip.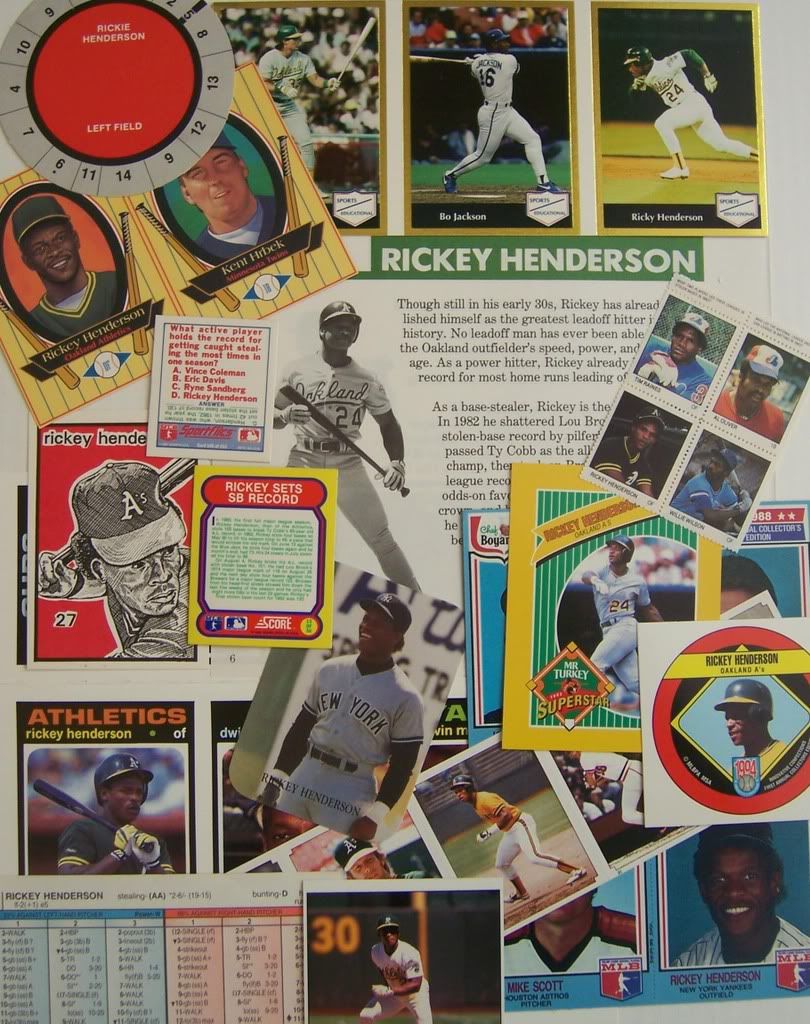 The final picture includes a page from a 1991 Little Simon Record Breaker book, an uncut sheet of cards from a 1991 BB Card Price Guide Magazine, a panel of 4 1988 Chef Boyardee cards, a 1987 Indiana Blue Sox card, and an uncut square from the 1994 Sucker Saver set.
Because I purchased such a large collection, I now have a ton of oddball cards available to trade for Rickey's that I still need. I'll try and get a list up shortly, but if anyone needs any particular cards, please send me a list, and I can let you know what I have.
I'm going to be unable to post anything more this week, but I'll start up next week with more of the new additions to my collection.