Just a quick post today to showcase something that I just recently rediscovered while cleaning out our spare bedroom. It's a set of autographed cachet's that I had custom framed and matted by my lovely wife (then girlfriend) who worked at a frame shop while going to college. I unfortunately picked out the frame, and would have been much better off if I'd let her choose one.
The first cachet is dated August 27, 1982 in Milwaukee, Wisconsin. It was released to commemorate Rickey's 119
th
stolen base of the season, which broke Lou Brock's all-time single season record. The cache was autographed by both Rickey and Lou Brock, but the Brock signature was signed with a really horrible pen, and can barely be seen (it's much more legible if you click on the picture and enlarge it). As I've mentioned before, I really like these silk cachets, with the image printed on a small square of silk rather than directly on the envelope. The Jackie Robinson stamp is also a nice touch.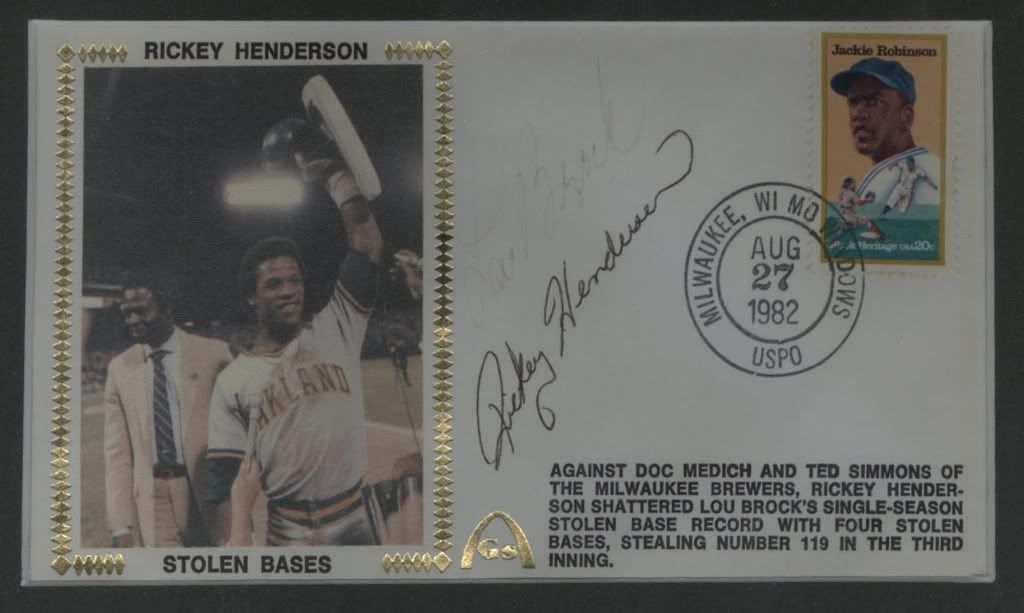 This second cachet was released in Kansas City , Missouri on October 2, 1982. It was on this date that Rickey stole three bases against the Royals, to make it 130 total for the season. This cachet was only signed by
Rickey
, but it is a nice bold and legible signature. The envelope once again includes a Robinson stamp, but also a bucking donkey cancellation mark, which I think is a nice touch. On a related note, an
unused ticket
for this game was recently featured on my most recent post.