Back in the height of my collecting period, there wasn't a day that went by that I didn't check eBay to see what new oddball Rickey items had surfaced. I haven't checked it out lately, but thought I'd see if any completed items caught my attention.
There were hundreds of game-used and limited edition parallels out there, none of which I have in my collection, but that's OK with me. I singled out some auctions featuring older, more interesting items, as well as newer items that still fit in the oddball category.
We'll start with what I think was the coolest find, a
signed check
from the Major League Baseball Players Association in 1980, for a total of $504, and endorsed by Rickey on the back. The check sold for almost $135, about 25% of the actual check amount. I also really like the fact that it's from the very beginning of his career. He made sure to cash this one, unlike the $1 million bonus check he received from the A's, which he never cashed, but just put up framed on his wall!
The second picture shows a close-up of Rickey's endorsement on the back.
While playing for the A's in 1982, only his third full year in the Majors, Rickey stole an unheard of 130 stolen bases. This still stands as the single season record today, with not much chance of being broken anytime soon. Michael Bourne of the Astros currently leads baseball with 21 stolen bases on the year, which would project out to only 75 for the season, barely half way to Rickey's all-time mark. This
unused ticket
from the game against the Royals on October 2, 1982, when he stole base number 130, recently sold for only $7.50, which I think is a pretty amazing deal!
This next item is an
autographed 8"x10"
featuring a vintage pose of Rickey in a classic early 80's A's jersey. Based on the holographic logos in the corner, it's obviously a new copy of an old picture (meaning the signature is fairly new as well), but it's still a great item, and not bad for only $45.00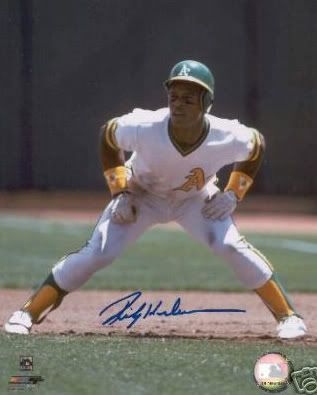 The auction below is for a particularly rare Topps Rickey Henderson card. This is the
1983 Topps Sticker Boxes #8
, and is one of only 3 cards of Rickey's that I still need from 1983. I've never actually scene on of these before, and definitely not one uncut from the box! This card was a great purchase with a final price of only $9.99.
Another early 80's Rickey collectible, this
560 KSFO Bumper Sticker
features a nice profile of Rickey, along with the Billy Ball logo,. and actually went unsold with a starting bid of $9.99. I know I have a similar bumper sticker somewhere, but I have no idea where it might be.
Ever since compiling my Rickey list using Beckett's database, there have been a few listings that I have had no clue what card they were talking about, one being the
1991 San Francisco Examiner #6
. I think I may have just solved this mystery. This 8 1/2" x 11" card (which went unsold at $3.00) was inserted in the San Francisco Examiner in 1991. The seller doesn't mention a number, but Beckett has been known to make up their own numbering system when they are so inclined, so I'm pretty confident they are one in the same.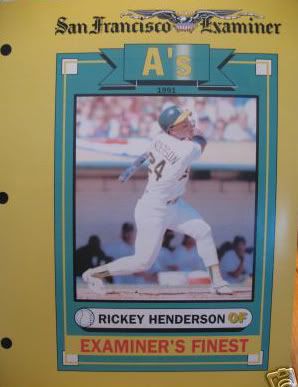 I have a fairly large collection of Rickey pins and buttons (which I will get to posting eventually), but this
939 All-Time Base Bandit pin
is one that I don't believe I've ever seen before. Following the trend of recent items, this one also went unsold at $7.00.
With these final items I'm shifting from the vintage, to something more contemporary. The first is a 2004
Modesto A's bobblehead
, with an unfortunate Taco Bell logo on the front. I realize that they sponsored the promotion, but this is a little much for me. This sold for a Buy it Now price of $28.00.
Continuing on with the bobblehead theme is this 2005
San Diego Surf Dawggs bobble
, which sold for a Buy it Now of $24.99. Aside from the weird looking lips, I like this bobble much better than the previous one. Also released by the Surf Dawggs in 2005 is this
poster schedule
(unsold at a starting bid of $4.99), as the Dawggs are naturally trying to capitalize on Rickey's star status.
Finally, although I mentioned in the beginning I ignored the vast array of game-used cards available, I couldn't help at stopping at the
Rickey Henderson and Willie Mays combo jersey
numbered 2 out of only 25 copies. Sold at a Buy it Now of $45 (a bit pricey for me), this is a card I wouldn't mind having, as it doesn't get any better than Rickey and Willie!