I remember growing up that one of my favorite things to do was go down to the local mall, and check out what baseball cards they had at the Kay Bee toy store. I loved to browse through the box of Topps rack packs, looking for the "white all-star cards" that were always present on the top of the packs. If I couldn't find one that I needed, then there was always a fall back plan...just pick anything with Rickey on it! The packs below are actually ones that I've acquired more recently, as an unopened pack would never have lasted very long back then.
This first pack is from 1986 Topps and contains 48 cards plus the all important "all-star game commemorative card," for a total of 49 cards. I've actually never opened a pack of 1986 Topps (since I started collecting in 1987), and I don't plan on starting with this one. It contains a double-dose of Rickey, with both his regular and commemorative all star cards.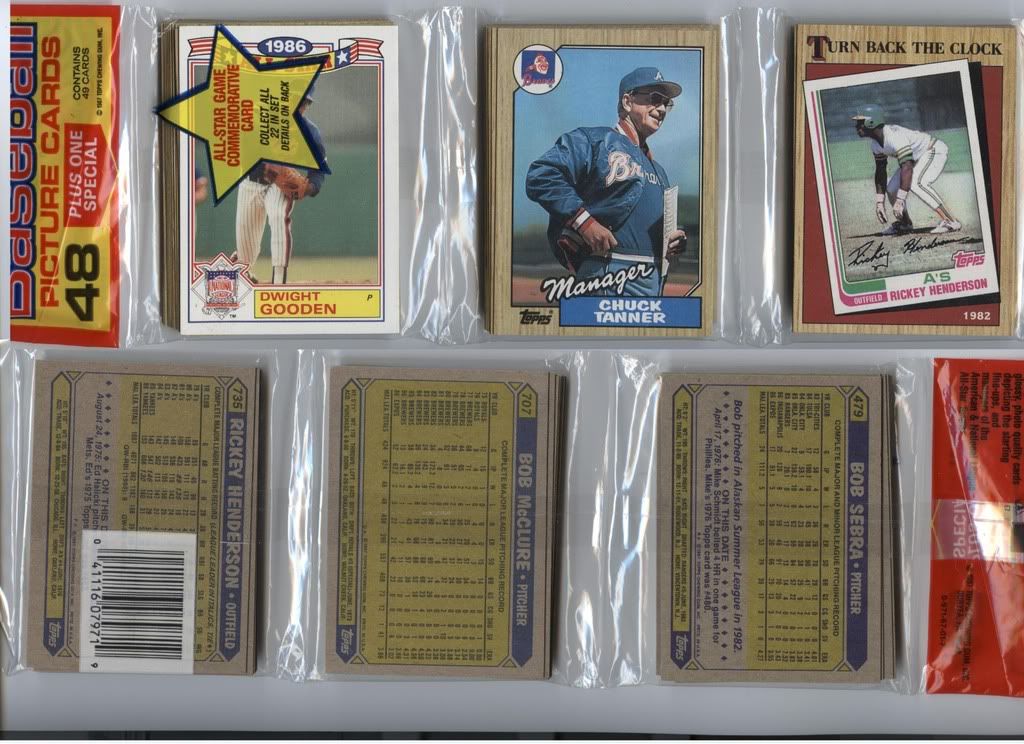 This pack from 1987 also contains 49 cards, with the Rickey "Turn Back the Clock" on the front. As an added bonus, his 1987 base card is on the back.

In 1988, the rack pack is reduced to 42 cards plus the insert, a reduction of 6 cards from earlier years. I'm not sure if I noticed this at the time, but I should have! Along with the Rickey commemorative all star card, this pack also features Carney Lansford on the front, a player admired by any fan of the A's in the late 80's.
The 1989 rack pack once again includes the reduced number of 43 cards. It's actually a pretty good pack, with a future Hall of Famer (Rickey), a potential Hall of Famer (Dale Murphy), and a 4-time all star (Jimmy Key).
In a venture away from Topps, this 1987 Fleer Cello pack showcases Rickey's base card on the front, and contains 31 cards and 2 stickers. Surprisingly, I don't remember opening any Fleer in 1987, I think it was Topps or nothing for me. But, I did receive a complete set of 1987 Topps, Donruss, and Fleer from my Grandpa for Christmas that year. They aren't worth much now monetarily, but for sentimental reasons, they are some of my most treasured cards.