UPDATE:
I've received quite a few questions on how to purchase some of this merchandise, so I thought I should add something here. I believe that most of the merchandise, as long as it's not a limited edition and already sold out, is going to be up on the Hall's website (shop.baseballhall.org) eventually. But, you can always call the Hall of Fame shop directly (1-888-425-5633), and they should be able to help you out.
After waiting many years for this time to come, I was finally able to obtain some Rickey Henderson Hall of Fame merchandise and collectibles today. I've included pictures and prices below of everything that I could find that was specific to this year's induction. There's plenty of Hall of Fame merchandise out there, but I was still somewhat surprised at the relatively few items available for this induction year.
I apologize in advance for the quality of some of the pictures, but the shop was pretty busy (as would be expected), and I didn't want to take forever. The items are listed in no particular order, just however I happened to run across them while browsing.

Induction Image Baseball: $9.95 - I definitely got one of these, which also feature Jim Rice on the other side.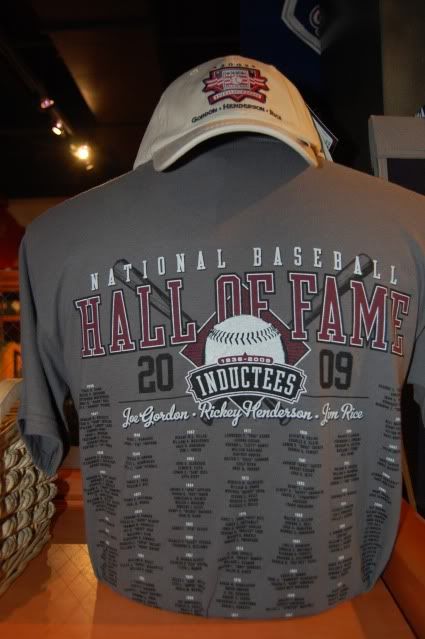 Hall of Fame Roster T-Shirt: $20 - I passed on this gray T-shirt, which lists the Hall of Famers by induction year, to get a different one from below.




All Hall of Famers T-Shirt: $20.00 - This is the T-shirt that I did get. I like that it has the 2009 induction logo, as well as the facsimile signatures, which the other one did not have.




Official Induction Patch: $12.95 - I passed on this embroidered patch, as it was a bit pricey, and I really did not have a use for it.




Hall of Fame Yearbook: $12 - I picked up this year's yearbook, and like the fact that the design style has been changed from years past.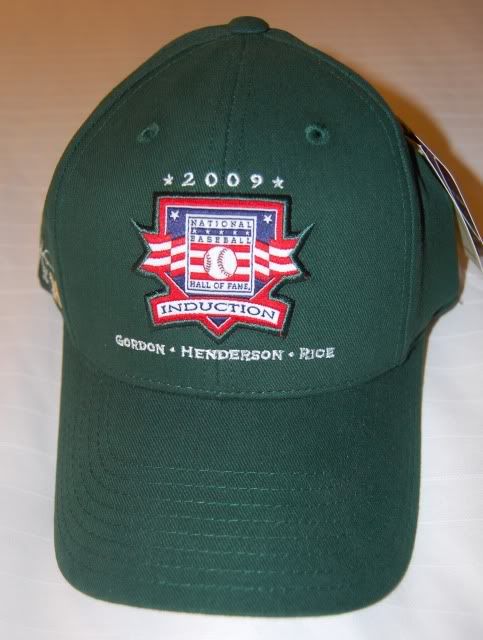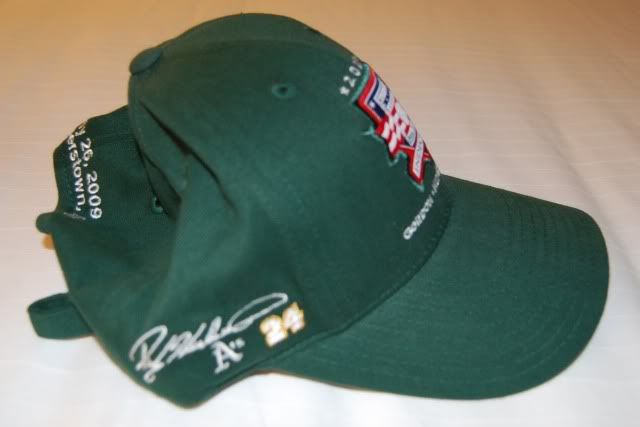 Induction Caps: $24.00 - I wasn't going to get a hat in Cooperstown, as I don't wear them as often as I used to, but since this one was specific to Rickey, I couldn't pass it up.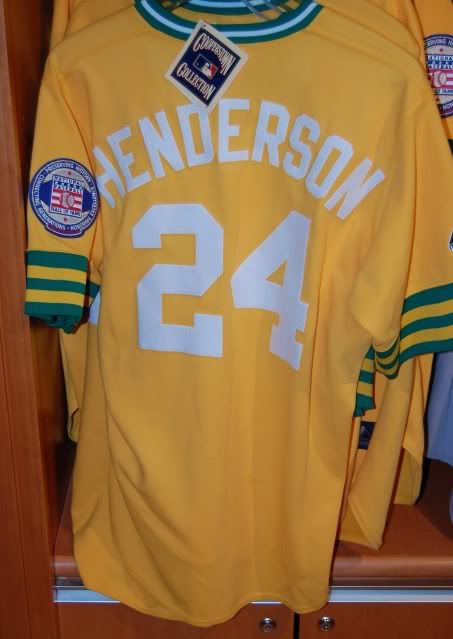 Cooperstown Collection Replica Jerseys: $110 - Ever since Rickey was inducted, I've been waiting for the Cooperstown Collection jerseys to be produced. But, I would have preferred a green or yellow jersey, as I'm not sure if I'd actually wear this one. So, as a result, I passed this one up.




Induction Logo Pin: $7.50 - Here's the basic induction logo pin, which is the first of three Rickey pins I added to the collection.





Henderson "Slider" Pin: $9 - This is a pretty cool pin (the 2nd of my three new ones) as Rickey actually slides back on forth on the pin.




Induction Logo Ball: $7.95 - I passed on this version of the induction logo ball, as I got a gold one instead.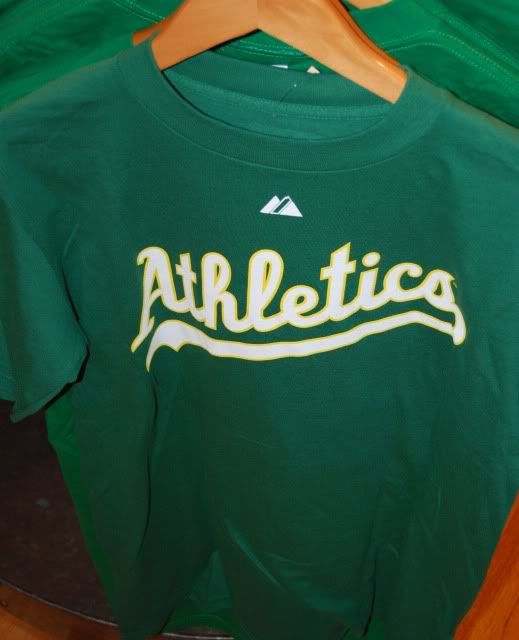 Name and Number T-Shirt: $22 - Here's a basic version of a Rickey/A's T-shirt. I passed on this as well, as it didn't have any sort of Hall of Fame indication on it.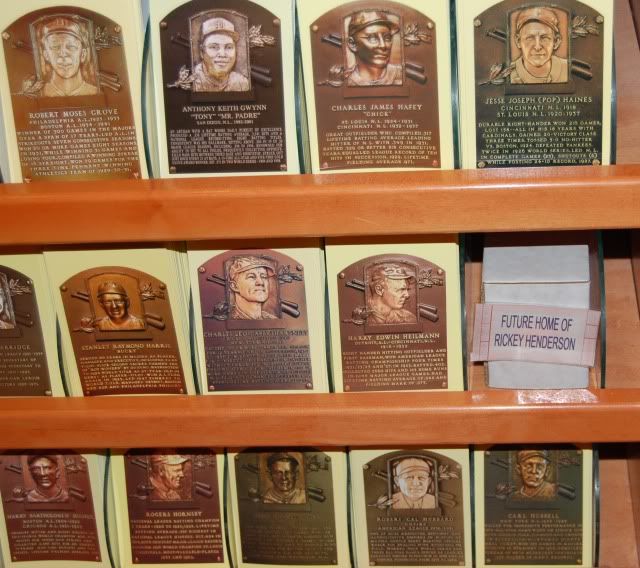 Hall of Fame Postcard: $0.50 - These cards aren't released until induction day, but Rickey's "spot" has already been created. At $0.50 each, I plan to pick up a handful of these once they are released.

Mini-Mega Ticket: $24.95 - This isn't a Hall of Fame item, they just carried it in the shop. I'd seen these pop up on eBay recently, but had never seen one in person.


Gold Induction Logo Baseball: $.95 - This is the golden version of the induction ball that I mentioned earlier. It's VERY gold, but that's okay.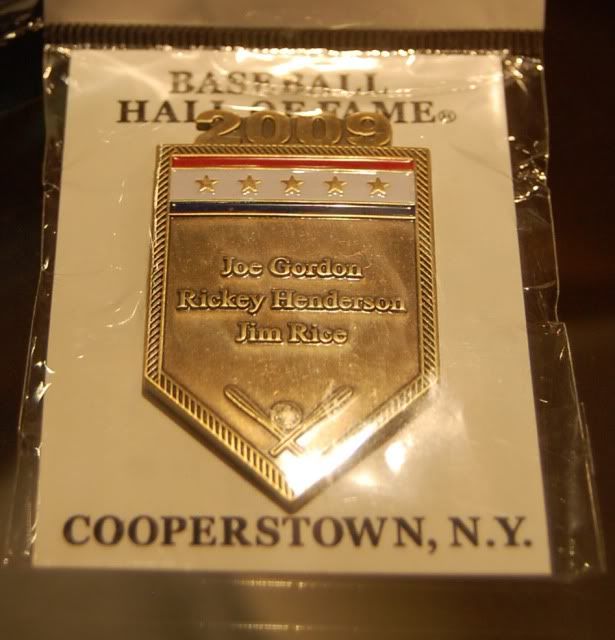 Induction Roster Pin: $9 - The last of the three Rickey pins I picked up. I didn't see any of these for sale on the floor, but did see one in a display case. A nice employee pulled it out for me and said that he didn't think they would be getting any more in, so I got the very last one. I'm glad I asked about it!




Cooperstown Bat Company Mini Bat: $25.00 - I didn't get one of these on my first trip to Cooperstown (in 1996), and I've regretted it ever since. So, I made sure to get one this time!

Induction Catalog - This isn't really a Rickey item, but hardcore collectors (you know who you are) will enjoy it. The catalog does list a few items which have either not yet been released, or are already sold out in the store.



Induction Pennant: $10 - They didn't have any of these in the store, but I would have passed on it anyway. It definitely doesn't travel well, I don't have anywhere to put it at home, and I don't really like the look of it.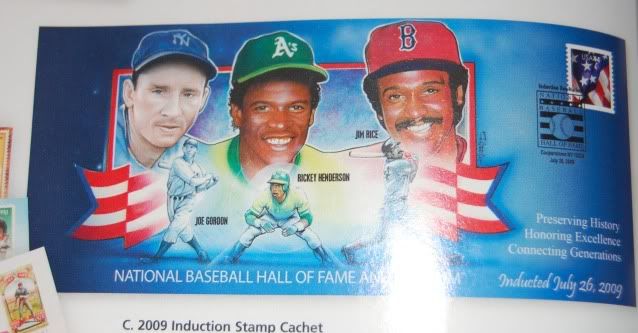 Induction Stamp Cachet: $24.95 - This postal cachet will not be available until induction day, but I think I'm going to try and pick one up if I can.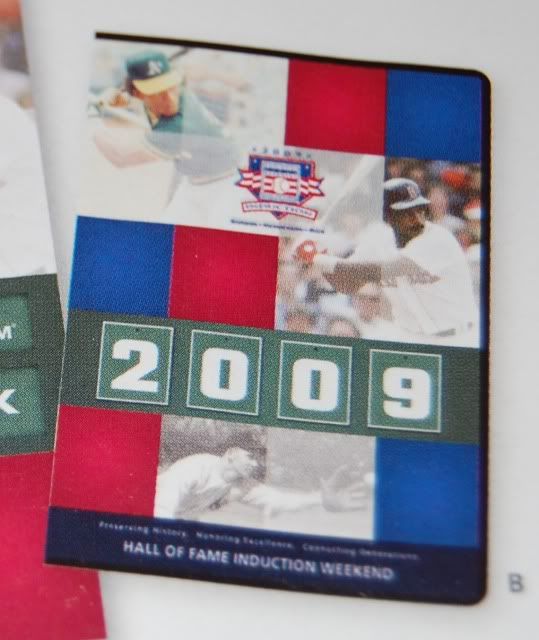 Hall of Fame Weekend DVD: $21.95 - The DVD is obviously not available now, but they were taking "orders" at the store. If anyone is interested, they've got a box where they are taking down names and phone numbers, and then they will contact you when the DVD is ready. I'll gladly submit anyone's info if they'd like me to.



Acrylic Hall of Fame Plaque: $35 - Last, but certainly not least, is another item that's not going to be released until after the induction ceremony, but one that I'd like to get. With all of Rickey's teams on his plaque, the font has got to be pretty small.
I'm not sure when my next post is going to be, as tomorrow is a pretty busy day here in Cooperstown. There's a celebrity golf tournament in the morning, a press conference in the afternoon, and the red carpet arrivals of the Hall of Famers at night. The red carpet arrivals don't start until around 8pm. Since I'm not sure how long they will last, I don't know if I'll be able to get a post up, but I'll at least try to get some pictures posted. I've got to sleep sometime!