The "Legends of the Game" event was a question and answer session with Jim Rice and Rickey Henderson, with about half of the questions being asked by fans in attendance. It was the last official event of Hall of Fame Weekend, and I can't believe that it's over.
But, my coverage is just beginning, as I'll have plenty of more posts in the week to come, I just need to get them all put together. I think I took about 1,500 pictures during the entire time that I was here, so I've got my work cut out for me. This doesn't even include the videos that I took, many of which I've already posted.
The event is promoted above on a TV in the lobby of the Hall of Fame. Although I'm not sure exactly what happened, the event was originally supposed to be broadcast live on ESPN, but when they lost the ceremony to the MLB Network, I'm assuming they pulled the plug on their broadcast of this as well.
Rickey and Jim arrive at the event, with Rickey wearing signature monochromatic white.
Rickey acknowledges the fans as Rice looks on. It's been awhile since we've seen that pose from Rickey, which looks quite similar to his celebration after breaking Lou Brock's stolen base record.
Rice also greets the Red Sox faithful, who were out in force the entire weekend.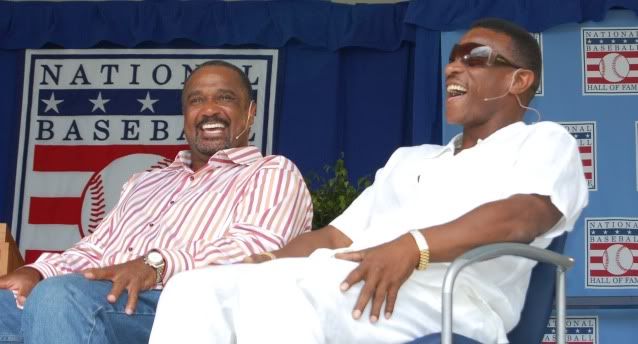 The newest inductees definitely seemed to be enjoying themselves, and were probably pretty relieved that the weekend was finally over. They'd been going non-stop since Friday, and I can imagine that they're looking forward to a break.
Rickey reacts to a remark from Rice in one of many entertaining moments in the program. I took video of most of the questions, which I'll put together and post at a later time.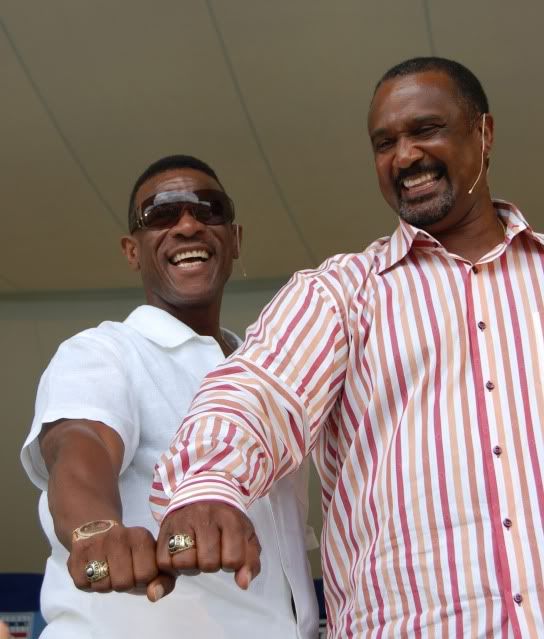 At the end of the program, the Hall's official photographer had the two pose with their new Hall of Fame rings, which allowed me to get this shot, which is one of my favorites of the weekend.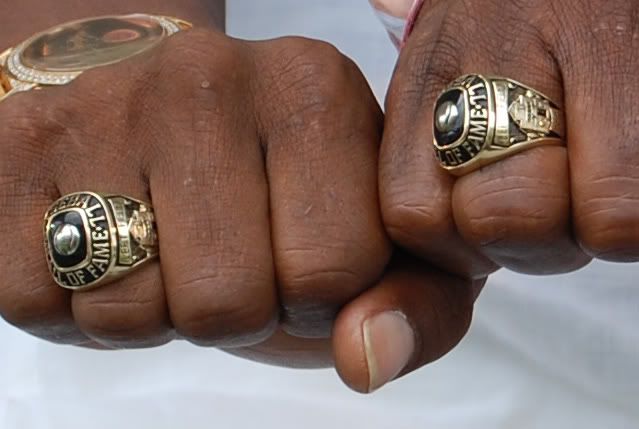 Here's a close up of the rings, which say "Baseball Hall of Fame" in a ring around the top. There similar to World Series ring, but much less gaudy, and much more exclusive!