I've written two entire posts filled with Hall of Fame merchandise, but I haven't included the only item that I went to Cooperstown knowing that I had to have.
About 15 years ago I was visiting the house of a family friend, and noticed a framed brown bat on the wall. It was a Hall of Fame Commemorative bat from the year Tony Lazzari was inducted, who was actually a relative of the family friend. He was telling me how he had to get in line early in the morning to purchase the bat, and I knew right then that I had to get one whenever Rickey finally went into the Hall.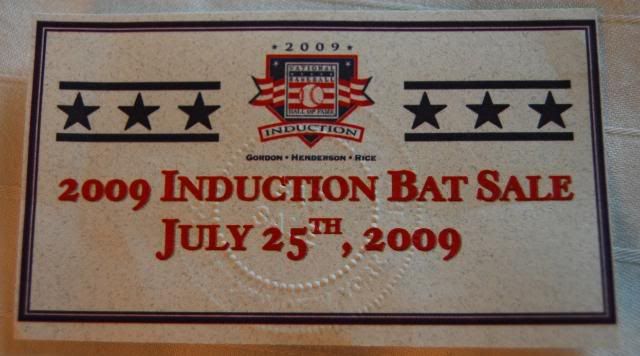 I got in line in front of the Hall of Fame at around 6:45am on Saturday morning, and was given the above ticket, indicating that I would indeed get a bat! I was about 20th in line, and was glad that they were handing out the tickets, so that I wouldn't have to stress out about them running out.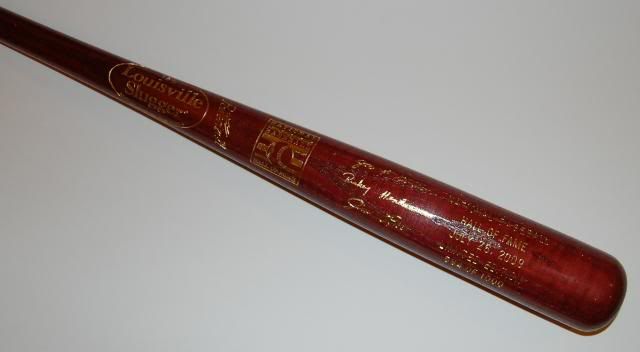 The bats are official full-size Louisville Sluggers, and include the incoming Hall of Famers signatures along with the Hall of Fame Logo.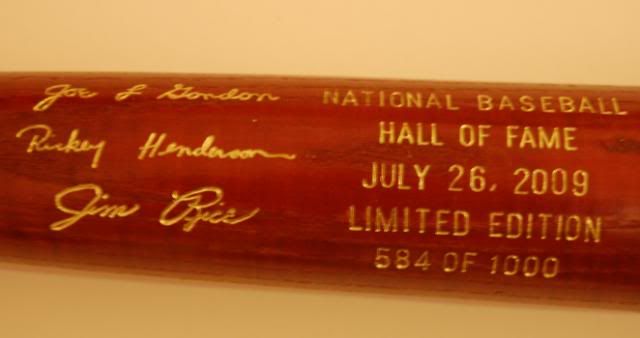 The bats are limited to only 1,000, but there are much less than that actually available. The first 500 are sold via subscription to the same people every year, and from what I was told, there's a waiting list to become one of the subscribers, similar to those wanting Packers season tickets.
The remaining 500 bats are usually sold on induction weekend, but that was not the case this year. The Hall created a $1,000 induction weekend package which included premium seats to the induction ceremony, and one of the commemorative bats, among other perks. As a result, there were only 58 bats available for sale that morning. I'm glad I got there early!